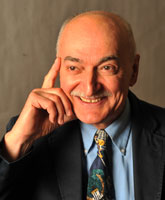 Slaven Letica
Slaven Letica, a college professor, economist, politician and a publicist, was born in 28 July 1947 in Latište, a village near Podgora. He was educated in health economics and medical sociology at the universities in Edinburgh and Leeds, but he proceeded building his career at the School of Medicine, University of Zagreb.
The public recognizes him as dr. Franjo Tuđman's first personal assistant, the duty served from May 1990 until March 1991. Slaven Letica is the author and co-author of sixteen works in science and popular science published in Croatia and the United States, including more than a hundred scientific and professional papers.
He is married to Gordana Cerjan-Letica, a sociologist and an associate professor at the School of Dental Medicine in Zagreb. They have two sons. Bartol, born in 1976, graduated international relations and political science from Yale. Frane, born in 1982, graduated from the Faculty of Law in Zagreb, and is a successful lawyer.